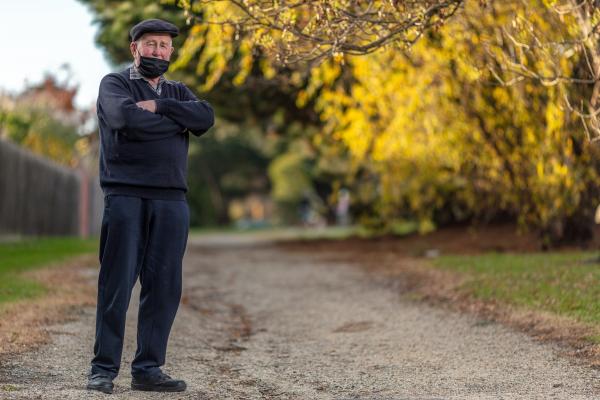 By Cam Lucadou-Wells
Casey Council has rebuffed a neighbourhood campaign to seal a well-trodden gravel trail in Endeavour Hills.
Resident Doug Wilkinson says the one-kilometre path from Heatherton Road's shops to James Cook Drive is a popular shortcut through the suburb's circuitous footpath network.
The decades-old path is often eroded by rain, gouging chasms such as in the steeper section near Charles Green Reserve.
It poses a hazard and an obstacle for pram-pushing families and ageing pedestrians, including those on walkers and mobility scooters, Mr Wilkinson says.
Several years ago, Mr Wilkinson pushed for the path to be listed in Casey's 10-year capital works plan.
He followed up in 2020 with a petition signed by 73 residents. Many of the petitioners were "like me – heading for 80 years old".
"If you say nothing, nothing happens," Mr Wilkinson says.
"The path's been like that for 40 years. Every other path has been concreted and it's the only one that hasn't been done.
"I'm pretty proud of Endeavour Hills and I would like to make it tidy."
Bruce MP Julian Hill, who wrote to Casey Council in support of the residents, said: "Council have known about this issue for years and nothing has been done."
"I support the request by a growing number of local residents to have this footpath built so that people can access the shops and other essential services, especially those with mobility issues."
City of Casey overlooked the upgrade in its draft 2021-'22 capital works program, which included $3.64 million for paths.
Casey's city and asset planning manager Keri New said residents had existing access to a "complete sealed footpath network" connecting to the Endeavour Hills town centre and Heatherton Road.
"Whilst the gravel path could be considered for an upgrade in the future, the project is not included in our upcoming Capital Works Program, due to the existing connectivity around Endeavour Hills.
"Council will continue to assess priorities for its Capital Works Program on an annual basis, with prioritisation aligned to Council's Walk and Ride in Casey Strategy."
Under the strategy, more focus is placed on locations without any footpaths rather than upgrading existing paths.
These include missing path links around schools, activity centres and train stations.