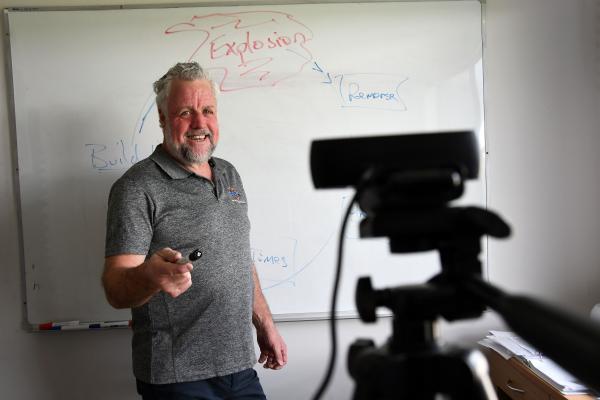 By Cam Lucadou-Wells
During Covid lockdowns' pressure-cooker, a South-East based men's behaviour course had to find a way to keep going.
"There's a lot of anxiety," says Dave Nugent, who founded Heavy METAL (Men's Education Towards Anger & Life).
"There's stresses and arguments going on at home because everyone is stuck at home."
So the weekly meetings went online to ZOOM. The therapy and teaching continued via talking and listening to men "take ownership" and share their stories.
"They realise they're not alone.
"It's like an escape for them."
Financial stresses can trigger shame and in turn, unmanaged anger in men, Mr Nugent says.
Men worry that their partner won't stick around, and so become more controlling, more abusive.
But what their partners want is for the man to "wake up" and change those ways, he says. Change themselves for the better.
"Through their upbringing, men are told to be successful you have to own a house," Mr Nugent says.
"When men feel they can't get that, they feel they've failed.
"When their partner gets angry at them, they project that they're the cause of blame and they get angry back at her."
In many cases, men are ordered to take a behaviour change course after being charged with family violence and fronting the courts.
Many feel too ashamed to ask for help before it gets to that stage – even though they know they're doing the "wrong thing".
Mr Nugent has been working on a book to try to capture men before "police knock at their door".
"There's a huge market for men who want help but don't want to come to a program. They know something's not right and they get help.
"We can save the community thousands of dollars in government services and police involvement."
Mr Nugent says for men to change, they need to embrace being the best man, partner and father figure they can be.
He doesn't seek to condemn or highlight participants as "perpetrators" of family violence.
Other behaviour-change courses were like being "drilled by an army sergeant", participants have told him.
"They're judged and put in a category.
"How does that encourage enthusiasm or motivation to get help?"
Prior to lockdown, the group got away to weekend workshops such as at Phillip Island. They learn yoga, mindfulness and relaxation breathing techniques.
Motivational guest speakers teach "embracing vulnerability" and connect underlying shame to anger.
"We give them the power and tools to do things differently.
"It's OK to be angry. The problem is we don't know how to express it."