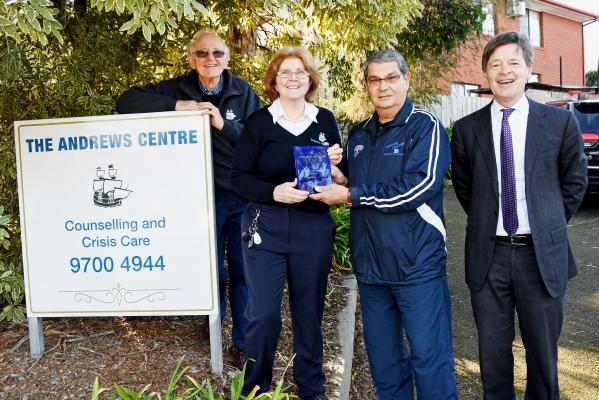 By Cam Lucadou-Wells
An inspirational, charitable champion has been there for families in need in Endeavour Hills, Doveton and Lysterfield for more than 26 years.
Judy Martin, who leads the Andrews Centre, was presented the 2021 Juan Carlos Loyola community service award by Narre Warren North MP Luke Donnellan on 25 June.
Ms Martin has been at the helm from the start. She said it was an award that represented the centre's great deeds, rather than herself.
"I have a team of people that I work alongside, just wanting to look after the community."
In 1994, Ms Martin set up an opp shop while Australia was on the "edge of the recession".
She and a handful of volunteers responded to waves of families who needed household goods, food vouchers and clothing.
"It was similar to Covid-19. A lot of families lost work, and literally had no income at all. They were in difficult situations."
In 2000, the shop evolved into the Andrews Centre in Hanna Drive.
The centre – now with about 100 volunteers – offers vast help for about 1200 families each year.
The services include supported emergency accommodation, emergency relief, English language classes, interest-free loans and a group meeting space, as well as professional counsellors and psychologists.
Mr Donnellan – who sponsors the annual community award – said Ms Martin had recognised and responded to the community's needs for more than 25 years.
"Her ability to bring others along with her and grow a local volunteer organisation looking after local families is inspirational."
The award is named after Juan Carlos Loyola OAM, who runs the Doveton Special Soccer School.
"I admire the drive, vision and passion that Judy Martin brings to her work in this community," Mr Loyola said.
"Her community spirit and long-standing volunteering are a wonderful example to all."
The award is designed to recognise the positive, valuable impact of volunteers.