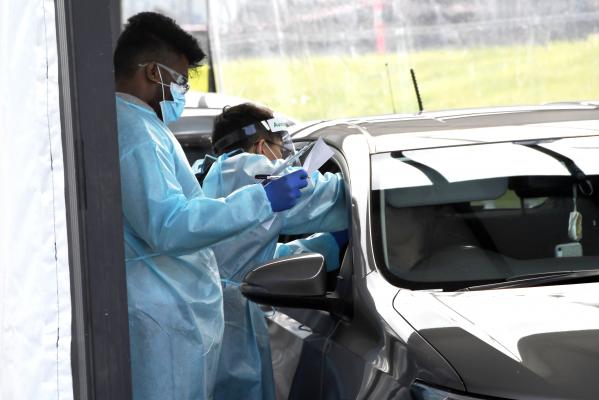 By Cam Lucadou-Wells
An Endeavour Hills service station has been added to the growing list of Covid exposure sites in Vicotria.
Shell Coles Express on the corner of Heatherton and Hallam North roads was attended by an infected person on Thursday 15 July between 4.38pm and 4.55pm.
It has been listed as a Tier-2 site – meaning anyone who attended the servo at that time is advised to urgently get tested and isolate until a negative test result is confirmed.
Two stores in Narre Warren North were also added as exposure sites.
The Marcos IGA supermarket in Narre Warren North was listed as a critical Tier-1 site.
An infected case attended the IGA between 11.25am-12.10pm on Friday 16 July.
Anyone at the business during that time is being urged to get tested immediately and quarantine for 14 days starting from 16 July.
On the same day, the Australia Post Shop in Oakview Boulevard was visited by a case between 12.05pm-12.30pm. The site is a Tier-2 site.
Budget Car & Truck Rental in Lonsdale Street has been listed as a critical Tier-1 site after being attended by an infected person on Sunday 18 July between 2pm-2.35pm.
Elegance Tiles in Frankston-Dandenong Road, Dandenong is listed as a Tier-2 site.
It was attended by an infected case on Wednesday 14 July between 11.05-11.27am and Thursday 15 July between 6.40am-7am.
There are two Tier-2 exposure sites in Dandenong South.
Swift Way Takeaway in Swift Way, Dandenong South was attended by an infected person between 6.40am-7.15am on Monday 12 July, Tuesday 13 July and Thursday 15 July.
A case also attended Bunnings Dandenong on Princes Highway, Dandenong South between 7.45am-8.15am on Tuesday 13 July.
The Department of Health advises that anyone who visited the Tier 2 sites at the relevant times to "urgently get tested, then isolate until confirmation of a negative result".
They're further advised to monitor for symptoms and get re-tested if symptoms appear.
The list of Tier 1, Tier 2 and Tier 3 exposure sites and times has grown to 380, as of 22 July.
In the past 24 hours, 26 new locally-acquired cases were reported in Victoria. The Department of Health stated 24 of the cases were isolated during their entire infectious periods.
Victoria's Covid lockdown has been extended until 11.59pm on Tuesday 27 July.
A full list of Covid exposure sites in Victoria is at https://www.coronavirus.vic.gov.au/exposure-sites