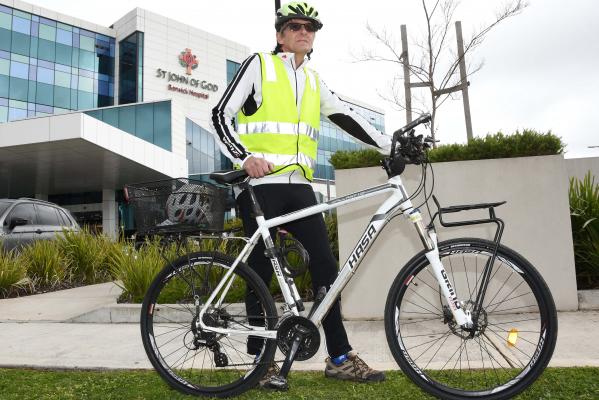 By Cam Lucadou-Wells
Hit-run victim Rolf Norman is looking for answers after being struck by a car and left on the road unconscious.
Many times, Mr Norman from Endeavour Hills had rode without calamity to Hallam railway station as part of his daily commute.
About 12.30pm on 17 June, the 64-year-old cycled south along the footpath of Hallam South Road near Keeble Drive when struck by a driver reversing from a driveway.
His hip struck the car window as he flipped onto the road, striking the back of his head.
"They've hit the brakes too late. If it was a faster impact, I would have been thrown into the middle of Hallam South Road."
Mr Norman woke up alone in the middle of Keeble Drive. He stood and dusted himself off, then was struck by agony in his knee, elbow and neck.
He took all safety precautions – a bright reflective vest, two rear lights, a flashing light on the front and a helmet that he says saved his life.
Though it didn't prevent concussive side-effects for weeks.
By some misfortune, Mr Norman had taken his bike cam off that day.
He's seeking witnesses who may have seen the crash or recorded it on dash-cam. As a clue, his bike has been marked by blue paint.
"I can't report it to the police without any evidence."
The St John of God hospital worker recuperated next door in Casey Hospital for 12 days, then was back at work a week later.
He has since taken a further month off with anger, anxiety, mood swings and chronic headaches.
"It's not a fun thing. You just want to put a pillow over your face."
Any information on the crash to Rolf Norman at rwnorman57@gmail.com