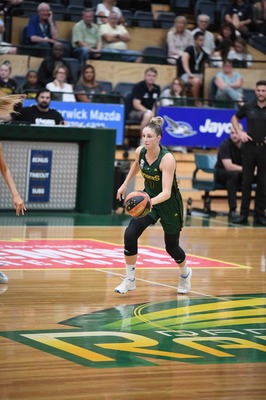 By Hayley Wildes
There is an absolute superstar of basketball currently plying her trade for the Dandenong Rangers in the NBL1 competition and it's time to take note.
Bec Cole has long been a guard with speed to burn and a real passion for the game. This season for the Rangers, Cole has taken her game to a new level and is leaving opposition defences in her wake.
Currently averaging 32.5 points, 5.3 assists, 5.1 rebounds and 2.3 steals per game, while shooting an outrageously efficient 56 per cent from the field and 47 per cent from three-point range, Cole's superstar status is no longer up for debate.
Her 32.5 points per game is leading the league – by a long margin – with Lauren Scherf (25.7 points) second. While 5.3 assists has her fifth in that department, but it is her efficiency that has been the key to her MVP-worthy start to the season.
Shooting 56 per cent has her ranked fifth in the league for field goal percentage and she is taking the most shots in the league, averaging 21.5 attempts per game.
On Saturday night, Cole scored a season-high 40 points, along with 6 rebounds, 5 steals and 3 assists, against Nuawading in another deadly efficient outing. Her 40 points came on 53 per cent shooting from the field (14/26) as the Rangers defeated the Spectres, 86-67, improving to an impressive 9-1 record on the season.
Cole credits her shooting efficiency to hard work and having a great group that understands each other's games.
"It's been awesome working with these girls and I just love the style of game we play," Cole said.
"Our coach Whitey [John White], he just sort of lets us play the way we individually play and it works as a collective at the end of the day.
"My individual workouts that I've been doing, my shooting work in the off-season and just the extra sessions have helped get my percentage where it is."
Last season, before the SEABL competition was re-named NBL1, Cole played for the Melbourne Tigers and was an offensive force, averaging 22.6 points, 5 assists and 3.8 rebounds, while shooting 45.9 per cent from the field and 37.6 per cent from long-range.
With her triples falling much more regularly – she's connecting on double the amount she did last season (2.6 compared to 1.3) – defences have to respect her outside shot and must come out to defend her on the wing, allowing her to drive to the paint if they bite on a shot-fake.
Cole has always been known as an aggressive player, someone who can break down an opposition defence with ease and get to the bucket with tremendous strength.
But back in 2011, when she was just 19 years old playing at the Australian Institute of Sport, injury struck Cole in the form of an ACL injury. After working her way back, she once again suffered an ACL injury in May 2015.
Cole looks back on those times as having shaped her career and teaching her valuable lessons.
"There was about four years where I was still in my coming back period where you do question yourself; 'am I ever going to reach that pinnacle?', but you've just got to work hard off the floor, in the gym and also work on yourself mentally, because that's almost half of it," she said.
"Then just surround yourself with a really good support system – my family has been absolutely amazing and it really shows when you come back, if you work hard, anything can happen, you honestly just have to believe."
That belief, resiliency and hard work has seen Cole reap the rewards in 2019. Earlier this year, she finished second in WNBL MVP voting, was named to the Australian Opals squad and helped Australia qualify for the FIBA 3×3 World Cup, which takes place in June.
"Like every athlete, I've been through a lot – whether that be good seasons, bad seasons, injuries or whatever it is – and just knowing you've come out the other end while you've been working your bum off and you get that reward, it's a really good feeling," she said of her Opals call-up.
"It's humbling and I was saying to someone the other day that I am really proud of myself because I have put in all that hard work and I'm not going to stop now – I'm going to keep working harder, because that's the only way we get better."
Having represented Australia at senior level – she also had an illustrious junior career with the national team – Cole has her eyes set on the biggest sporting event in the world.
"I'm definitely striving for the Olympics next year, it's been a goal to make the Olympics since I was 15," she said.
"Any time you get to represent Australia, it's such an honour and a privilege.
"You get goose bumps every time you get your jersey or you get some Australian gear – that green and gold is something special and you never forget it."
Whilst she has now solidified her place as one of the best 3×3 players in the world, Cole spoke about how competing in that format of the sport helped her find her way back from injury despair.
"I think at a time when maybe I didn't really know what was going on, a bit low on confidence, the first 3×3 Pro Hustle [an NBL-run 3×3 competition] was where I found my confidence and drive again," she said.
"I've always played that way, but I just kind of lost my way a bit, so it definitely brought back my aggressiveness and my confidence.
"Ever since that, I've just been working hard and good things have been coming from that."
With a relentless work ethic and love for the game fuelling her success, you get the feeling Bec Cole will be suiting up in the green and gold for many years to come.