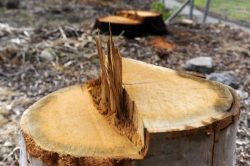 By Cam Lucadou-Wells
Casey council and a developer are close to agreeing on a proposed housing estate on the ex-Doveton Secondary College site that was marred by illegal tree-felling two years ago.
The council had largely agreed to a draft development plan that retains most of the 5.82-hectare site's remaining stands of significant and high-value vegetation, including river red gums.
It followed the parties being forced into a compulsory conference at the Victorian Civil and Administrative Tribunal in October to resolve the issue.
A council report on 7 March isn't clear on whether offsets for the "proposed" removal of native vegetation took into account the illegally cleared trees.
The site at the corner of Box Street, Claret Street and Ficifolia Drive, Doveton, was bought for $10.6 million in 2014 and illegally cleared of 53 native trees the following year.
A tree lopper pleaded guilty and was fined $5000 without conviction for the breach, but the developer was not linked to the offence.
Neighbours were outraged at the time.
One told Star News: "How do you put a price on it? You can't just instantly grow another mature tree."
The council report stated the high-quality housing – ranging one to three storeys – with links to surrounding public open space was set to act as a catalyst for further re-development in Doveton.
"The design guidelines contained within the plan indicate that the site will result in a high level of amenity and urban design."
It stated Casey was still negotiating with the developer on the cross-section widths of roads.
Councillor Wayne Smith said after lengthy negotiations, it was a "good example of collaboration" with the developer.
"We're now satisfied with the trees retained and the landscaping, and the standard and number of houses on the site.
"We've come to a good compromise."
Cr Smith said Casey had once lobbied for a social housing project on the site but that opportunity was lost when it was sold by the State Government to a private developer.
The plan will open for public comment when it goes to exhibition.