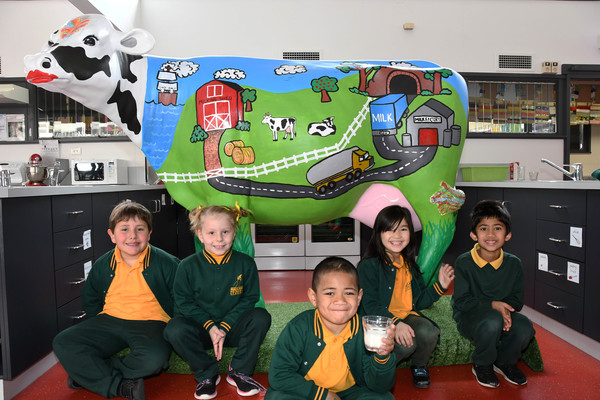 -
A cow-side mural depicting the "journey of milk from farm to plate" has earned Hallam Primary School a national award.
Out of thousands of entrants, the painting on the large fibreglass cow dubbed Mrs Cowington III took out the best cow design award in the Dairy Australia schools comp Picasso Cows.
The painting's story spans 230 years from the arrival of cows with the First Fleet.
It then follows the journey of milk from a dairy milking shed to a milk tanker then a processing plant, delivery truck and milk bar.
The cow also depicts the range of dairy products including cheese, chocolate, milkshakes, cream, yoghurt and custard. Students have also made butter, ricotta cheese and ice cream at school.
Prep teacher Louisa Carey says Mrs Cowington will be homed in the school's kitchen garden. Its $1000 prize money will be used for new plants and equipment for the garden.
Dairy Australia spokesperson Vanessa Forrest said the Picasso Cows program provided insight into the $13 billion Australian dairy industry.
"With many children increasingly growing up in urban areas, they often don't know where their food
comes from and Picasso Cows is a great opportunity to educate the next generation."