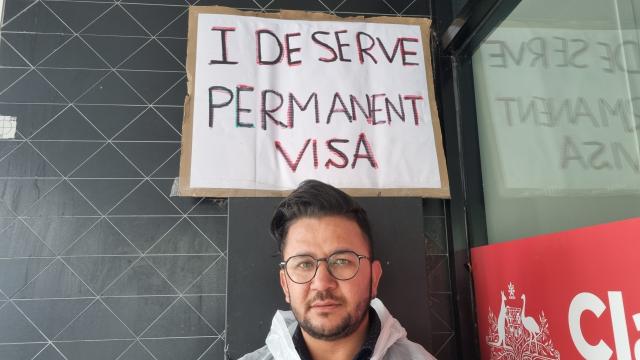 by Cam Lucadou-Wells
Desperate asylum seekers have staged weeks of protests, including a hunger strike, outside Hotham MP and Home Affairs Minister Clare O'Neil's electorate office.
Entering their fourth week, they are among 10,000 or so asylum-seekers in "limbo" in Australia for about a decade. Many of them are thought to live in Melbourne's South East.
They say they continue to be sidelined despite the Government's pledge to fix a "defective" refugee protection system.
Among them is 60-year-old Saeed Razi who after 10 years on a temporary visa has had enough.
He waged a five day hunger strike at the O'Neill office until he collapsed on the footpath and was hospitalized on 21 September.
Two weeks later, he was back at the protest site.
"I went on a hunger strike so people will listen to us and to have a voice."
Razi, of Sydenham, fled from Iran in 2013.
He's been working in Australia, paying taxes but doesn't get basic benefits – such as Medicare or his children having equal access to university.
Some are unable to get loans for homes, cars or even a phone contract. Some deprived of work rights.
Day by day, not knowing if they will be deported or detained – and their visas are up for renewal every six months or 12 months
While in "limbo", they are long estranged from their partners and children trapped and in danger in their homelands.
Razi says many suffer from mental health afflictions.
"Eleven years of this is too long.
"We escaped from Iran because we had problems with the regime. We can't return because the regime is killing people. It's a very dangerous regime."
Narges Shaterian, her husband and three kids have been on temporary bridging visas for 10 years.
They started a court process in 2018 to fight for permanent protection. They are still awaiting a second hearing in the federal court.
"We'll be back here (at the protest) next week as well. We'll continue until we get a response – they've ignored us for 11 years."
She has been contributing taxes, running businesses such as a pizza shop. But her children are charged and treated as 'international students' to study at university.
Also at the protest is her 33-year-old son Nooshad, who attained a Masters in IT in Iran and wants to continue his education.
Stricken with cerebral palsy, he can't afford to study at uni, can't get NDIS and he often sits idle in his chair at the back of the pizza shop.
Narges' daughter Nooshzad worked two jobs so to pay 'international student' fees of $30,000 a year to study for a Masters in Medical Imaging.
Abdul Nasiri, of Clyde North, has been on a bridging visa for 12 years. He has been fighting in the courts for more than five years with his family back in Afghanistan under threat from the Taliban.
"It's really hard. I can't explain it.
"I have friends who have the same problems with the Taliban – one friend gets a permanent visa, one friend doesn't have a future."
The protestors feel let down by the Federal Government, which had pledged a pathway for temporary visa holders to get permanent protection.
In February, the Government announced a Resolution of Status visa for 19,000 asylum seekers – leaving about 12,000 including the protestors on the outer.
According to advocates, the protestors' 'crime' was being at a different stage of the so-called 'Fast Track' application process.
The group is also said to miss out under the Government's $160 million reform package revealed on 5 October.
The reforms aim to speed up processing, fix the "legacy" backlogs of cases, and provide certainty and quicker resolution for those in "genuine need".
The Government seized on Nixon Review findings that there were "bad actors" increasingly lodging "non-genuine" applications for protection – at the expense of genuine claimants.
According to the Nixon Review, in 2018-'19, the protection visa system was being clogged by non-genuine claimants overwhelmingly from Malaysia, China and India.
More than 90 per cent from those three countries were found to be not genuine.
In contrast, a vast majority of the processed claimants from Iran, Iraq, Libya, Syria and Afghanistan were approved.
"After years of Liberals turning a blind eye to exploitation of the visa system, the Albanese Labor Government is taking action to fix the mess we inherited, and reform the migration system to help prevent future exploitation," Immigration Minister Andrew Giles stated.
"Crucially, these reforms will ensure that those found to be owed Australia's protection will have access to quicker and fairer assessment of their claims, allowing them to rebuild their lives with certainty and stability."
Asylum Seeker Resource Centre principal solicitor Hannah Dickinson says the $160 million reform package won't help thousands of "excluded" asylum seekers who are "barred" from applying for protection visas.
"The group of asylum seekers that we're speaking about have been left without a solution despite being in Australia for around a decade."
Their only option is to appeal for case-by-case basis intervention by Immigration Minister Giles.
"It's devastating. We've certainly noticed a deterioration of hope recently because of that perception of being abandoned."
Dickenson says a visa refusal doesn't mean a claimant is not a refugee – when the system is "not fit-for-purpose".
"We regularly witness refugees being denied protection visas because of defects in the system.
"This includes victim-survivors of severe gender-based violence and people from countries such as Afghanistan and Sudan."
"Addressing delays and a lack of support is a key first step, but to succeed, it is critical the government ends the untenable politicisation of refugee policy."
Dandenong-based Wicki Wickiriramasingham from Justice and Freedom for Ceylon Tamils says the Tamil community was "angry" with the Government – which supports the Sri Lankan regime even while Tamil human rights were allegedly deteriorating.
"The ALP promised they will change the temporary visas to permanent residency, to allow families to live with them. Eighteen months later, it has happened to a few people but not as promised.
"Community members are saying they're worse than the Liberal Government," the long-standing ALP member said.
"The Government is not even replying to our community leaders' requests."
At the protest, spectator Helen Panopoulos has a question for politicians: "Immigration has increased so much since the new Government came in, why not give these people visas?
"Why prolong the torture?"